This 6-week programme is designed to empower you with tangible skills to heal and balance your anxiety.
Our Anxiety Management beyond Meds programme will help you to identify your anxiety triggers and work through them using your psychophysiology, retraining your nervous system, and ultimately developing inner resilience (beyond the use of meds).
Dr Menon will walk through the specific steps with you in order to get one step closer in acquiring the skills mentioned for anxiety management – a form of building self-regulation and working with your psychophysiology. You will be guided 1:1 in person, or on Zoom, by our Naturopath, Dr Menon in weekly sessions.
In this programme, you will have lifetime access to all of the materials shared through the course of the 6 sessions together and the ability to reach out to Dr Menon anytime between sessions for assistance or advice.
This programme is suitable and open to teenagers and adults of any age group, ethnicity, and orientation.
(If you are interested in the programme for your child, please schedule a Free Discovery Call to discuss suitable options with Dr Menon).
This programme is a fit for you if you have:
an anxiety, or a mental health-related diagnosis
undiagnosed anxiety or mental health conditions
​ physical symptoms (like insomnia, palpitations, gut pain etc) that you feel are related to your mental health
are looking for options to manage your mental health beyond the use of meds or counselling
are keen to deepen your Mind-Body connection
want to expand your toolbox of skills to cope better with stress and conflict
want to learn modalities to soothe your nervous system
looking for a guide to help you with living a more calm and peaceful life
would like tailored support in learning how to move through life with more joy and balance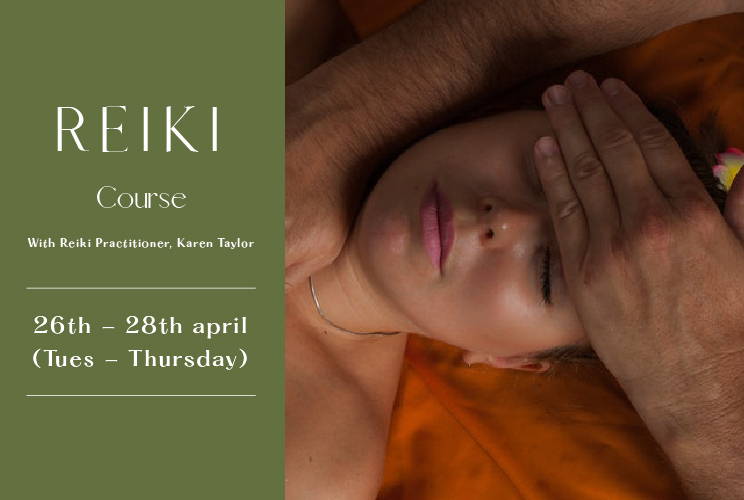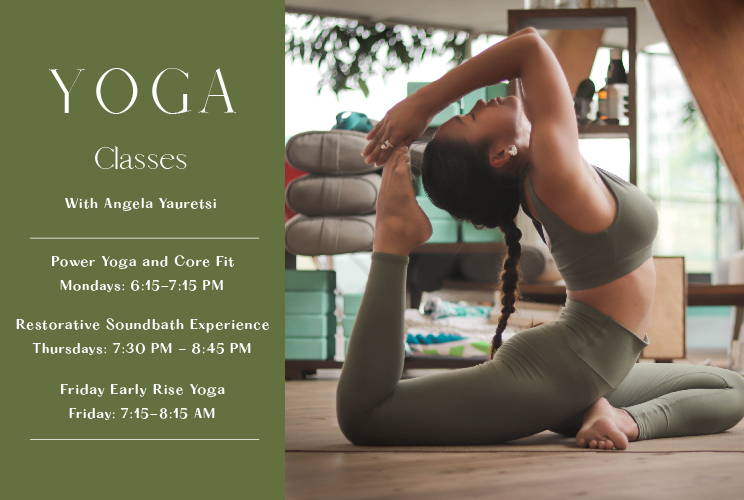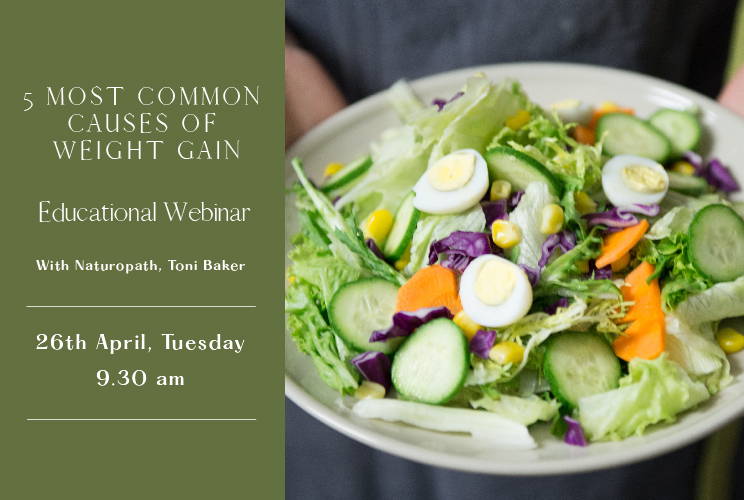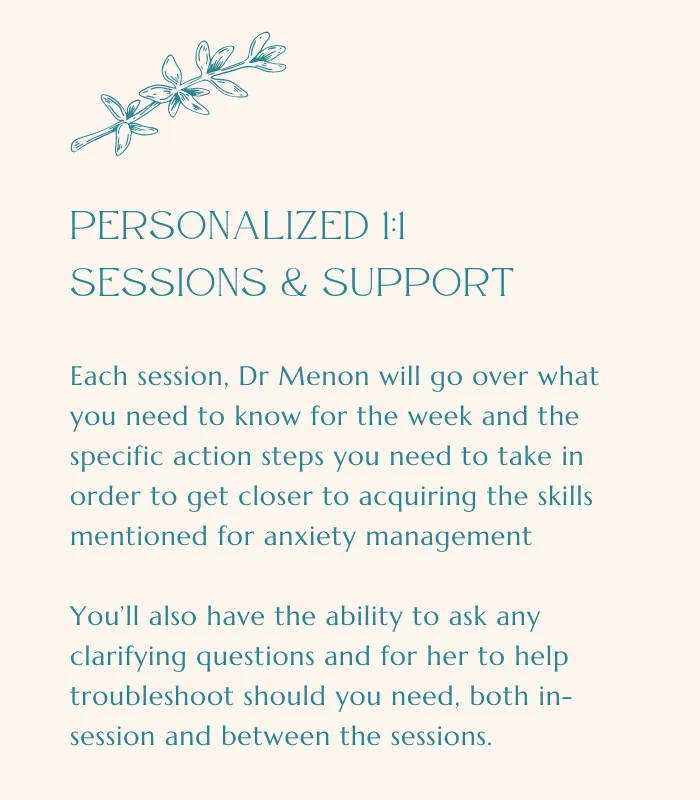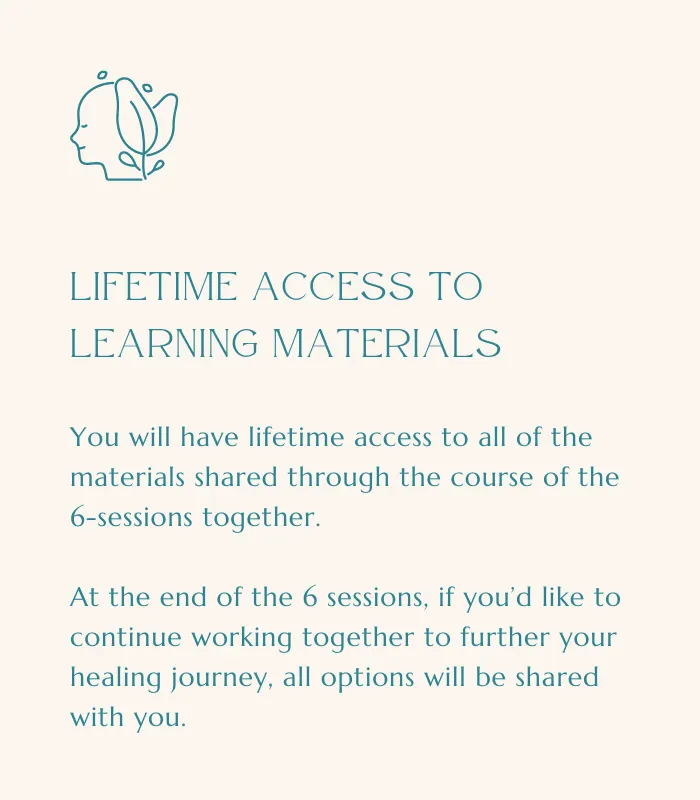 6 one-on-one sessions with Dr Poorna Menon
First session x 1.5 hours
Remaining sessions x 1 hour each
Unlimited email support from Dr Menon with any questions you may have between sessions
Lifetime access to all materials shared through the course of the 6 sessions.
All worksheets, all after visit summaries, which are personally tailored to you, theoretical material on all techniques and
modalities learnt, practical material, including guided audio recordings/music, for implementation and practice of the techniques
learnt and optional nutritional & lifestyle guidance that will be supportive to your mental health.
Some of the Resources from the Programme: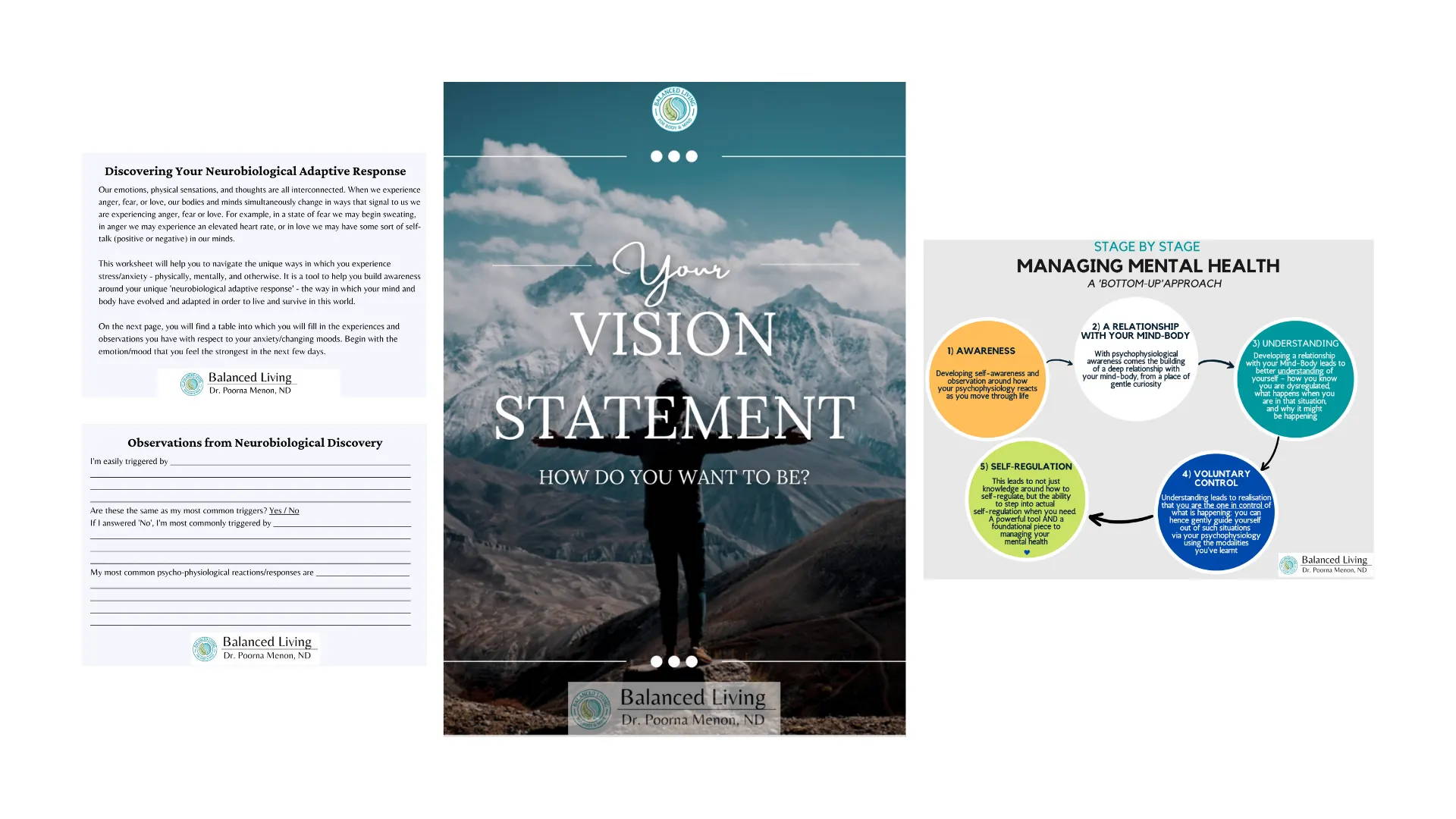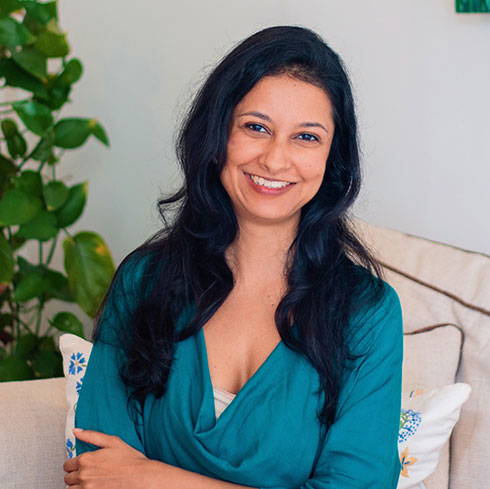 Dr. Poorna Menon, ND (USA) is a Naturopathic Physician licensed in the state of Washington with a Doctorate in Naturopathic Medicine from Bastyr University. She has in-depth experience in advising clients on chronic illness & lifestyle conditions, including mental health issues, digestive disorders, diabetes, cardiovascular conditions, Parkinson's Disease, kidney disease, and autoimmune conditions.
With a demonstrated ability to support clients in achieving their health & wellness goals, Dr Menon has been part of specialised groups caring for clients with chronic/complex illnesses, using multi-faceted, low-force approaches further to pharmaceuticals (ranging from diet, clinical nutrition & lifestyle management to counselling, herbal medicine, and nutraceuticals).
Dr Menon supports the synergetic balance of a client's mental, physical, and emotional wellbeing by bringing a mix of Naturopathic modalities with a detailed study of the client's history, and a tailored approach.
"From a life threatening Ketoacidosis coma, afterwards discharged with a fasting blood sugar level (FBS) of 240, following Poorna's Naturopathic protocal, I consistently achieve an FBS of 108 to 128 and completely went off Insulin within a few months."
"Dr Poorna drew on her wealth of experience and knowledge in naturopathic medicine, homeopathy and ayurvedic principles to provide personalised advice and a treatment plan for my (gut conditions) and lipoma."
"Poorna's treatment was both effective and caring. Following the initial treatment, she regularly followed up with further checks and recommendations that reflected genuine concern. I think this what truly differentiates her as a practitioner and human being."
"The programme has been helpful in addressing my insomnia and overthinking mind, and teaching mme techniques to handle my stessors effectively. I also appreciated Dr Menon's willingness to share different approaches to find the ones that work better for me, which was very helpful."
"I find Dr Menon's personalised After Visit Guides are so helpful and always worth my reading them multiple times."
"The different techniques shared by Dr Menon have been interesting and while some worked better than the others, it is good to know that I now have a range of techniques at my disposal that I could tap on to help me manage different situations."
"I felt much better post the session than (I had) for a long time. It really set me up for the day. The following day was mmy happiest day for a long time!"

"Carefully curated wellness experience to kick-start health."

"Useful and funky wellness experiences,"

"Healthy diet plans to help keep us in top shape!"

"You'll get to better understand your gut and overall health." "Authentically kickstart the health journey, starting from the inside-out."